...with 2,068 articles about Weegee.
Make sure to view this wiki using the Wikia/Oasis/Desktop skin! It's designed that way!
Woke up in a pit of parasites? Read the Rules!
Need some tabbers or an infobox for your page? Read up on the Page Tips!
Help us build our community up today!
If you see this, your JavaScript might be disabled or DiscordIntegrator plugin isn't working. If the latter, please contact a wiki administrator.
---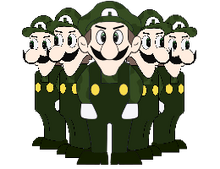 Weegee's Army
Weegee's Army is a colossal army led by Weegee. They are made of millions of Weegee Clones and thousands of Fakegees.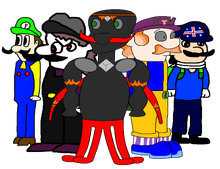 Fakegees
Fakegees are incomplete clones of Weegee. They are at least 50% Weegee DNA, and most have mutated powers.
---
The Weegee Pages
This Month's Announcements
We are working on bringing this wiki back to life, so it would be appreciated if you would provide feedback on the lore expansion thread.
With the new addition to the timeline, it would be appreciated if you could help us fix up some of the current articles.
The B.A.S.S was formed this month. Go sign up and mark pages for deletion/improvement. Make sure to state reasons!
Recent Junk
Who is your favorite Weegee?
Unlicensed Fakegees News Report
Today,
User:Hypneegee
, woke up in a pit of parasites. Here is an interview with him on the subject:
GOWEEGEEGO: So, what do you think was the reason you woke up in that pit?
HYPNEEGEE: ...IT BURRRRRRRNNNSSSSSSSSS!
GOWEEGEEGO: I see...is there anything you would like to tell the children based on this experience?
HYPNEEGEE: THE SEAL IS....
GOWEEGEEGO: Thank you for sharing this time with us. So, remember kids, Mr. Hypneegee now knows to always follow the Rules.
THIS CONCLUDES THIS EDITION OF UNLICENSED FAKEGEE NEWS REPORT
--
Wee
gee
01:32, January 8, 2013 (UTC)