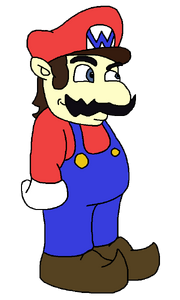 Wamalleo is Dargah's oldest son and Nolagnerc's oldest nephew. As the pattern with the rest of his family, he looks like a Walleo clone with a lot of similarities to Malleo. His brother is Walweegee. He seems to be grumpy all the time with no sign of stopping soon. He soon got an job at Walleo-Mart, as the janitor. He is also rivals with Mawalleo, although it seems that it turned into more of an friendly rivalry due to the fact that they both work at the same place, with neither refusing to quit the job.   
​Trivia
Devingee prefers to call the yellow Malleo clone "Wamalleo", and calls the red Walleo clone "Mawalleo", and that really ticks them off.
​Gallery
Ad blocker interference detected!
Wikia is a free-to-use site that makes money from advertising. We have a modified experience for viewers using ad blockers

Wikia is not accessible if you've made further modifications. Remove the custom ad blocker rule(s) and the page will load as expected.