He's a Weegee version of Spongebob and cousin of Pahtreek. He hangs out with Weegee and best friend of Pahtreek. His father is Renhaldi and his uncle is Genjaron. He works for Mr. Krahbz.
Relationships
Friends
Sawndeh
SquehdWawrd
Patreek
Ms. Paff
Larreh the Lobster
Whileh the Whale
Trivia.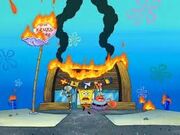 Ad blocker interference detected!
Wikia is a free-to-use site that makes money from advertising. We have a modified experience for viewers using ad blockers

Wikia is not accessible if you've made further modifications. Remove the custom ad blocker rule(s) and the page will load as expected.