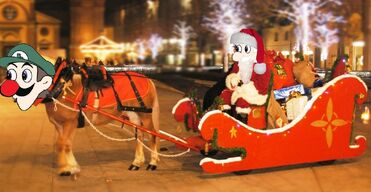 Santagee is a Fakegee who is also known as Clausgee, Santa Clausgee, Saint Weegee, Nickogee, or just Santa Claus. He was singing the song "Ave Maria" because he loved it so much. Santagee always gives presents to all the people in the United 'Gees Galaxy. When you've been naughty, he puts a dead Weegee or Malleo clone head in a box, giving the victim the Santagee Virus (or turning the victim into a Fire Flower.) If you have been completely horrible during the holiday season, Santagee will make a note for Krampee to come get you.
ITS CHRISTMAS GUYS,happy xmas to you 2 weeks to christmas ho yeah,lets expand this page
santegee is born in the year 0 when weegee gave his virus to santa for his birthday,when weegee was 15 years old.Santagee is a powerful weegee,he exists just when its december.Sometimes he saved the united gees galaxy when they were in war.
no one knows where he lives,he appers in christmas giving his gifts as always,a weegee clone tried to hide in the santeegee's carriage but the clone died,he gives to other galaxies coaleegee and dead bodies because he only likes the weegee's race.