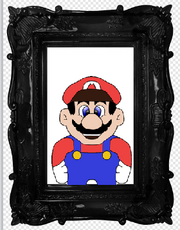 The Malleo Portrait is a Portrait when Keeng Bew caused Malleo to become a painting.He was later saved by Weegee and escaped from the painting. So far no discoveries were made. After Malleo was freed Weegee found a mirror home to observe it but something stranged happened and caused Guiyii to be created.
He appeared in Weegee's Mansion and its sequel, Weegee's Mansion Dark Moongee
Ad blocker interference detected!
Wikia is a free-to-use site that makes money from advertising. We have a modified experience for viewers using ad blockers

Wikia is not accessible if you've made further modifications. Remove the custom ad blocker rule(s) and the page will load as expected.