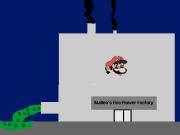 One day,
Malleo
decided to create a Fire Flower Factory. This was during the
Fakegee War
. It produces
Fire Flowers
from a conveyor belt that plants and grow many plants and ships them worldwide for $1,000,000 each. This gave Malleo lots of money. It also produces
FFR
through a pipe at the back as waste. This spills onto the ground and doesn't get cleaned up. Eventually, it caused
a flood
and turned everybody in the local area into the first
Greatures
. The only
Weegee clone
in the area was turned into
Greegee
. Malleo was on his lunch break so he didn't become a Greature, Peanut also owns the Factory and now cleans the
FFR
up and uses it at a Peanut clone to turn it into Greanut.