Not to be confused with Marreoh, Guiyii's brother.
Mahreoh is
Luweegees
brother. When
Mario
tried to save
Luigi
from
Dr. Scientisteegee
, Dr. Scientisteegee stopped him and cut his hair becuase any form of DNA could be useful to make a clone.
Dr. Scientisteegee
tried to fuse it with
Malleo
DNA but his fuser was broken so he couldn't make the DNA into a person, So instead he froze it in
FFR
which is the only way to not turn into a greature but make a clone. He was born and made to kill 
Mario
, Mahreoh tried to get
Mario
but never suceded and gave up. Know he tries to kill
Malleo
with weapons that come out of nowere. He has joined
The Anti-Weegee Alliance
.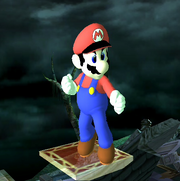 Ad blocker interference detected!
Wikia is a free-to-use site that makes money from advertising. We have a modified experience for viewers using ad blockers

Wikia is not accessible if you've made further modifications. Remove the custom ad blocker rule(s) and the page will load as expected.