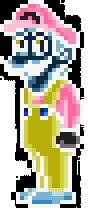 NOTE: SOME SYMBOLS MAY NOT DISPLAY PROPERLY ON OUTDATED BROWSERS
Mǝǝƃǝǝ the Ⅎɐʞǝƃǝǝ version of Weegee. He was created in a cloning accident when Un Ded tried to make a Pure Evil Weegee clone. They failed, and their machine malfunctioned. It scripts got a mind of it's own and eventually formed a physicial being. This became Mǝǝƃǝǝ. He is a glitch version of luiigiie and can interfere with machines mentally. Mǝǝƃǝǝ broke free from Un Ded and created the Ⅎɐʞǝƃǝǝs, a glitchy version of Fakegees. Mǝǝƃǝǝ also created his own brother, Wɐllǝo. He and the Ⅎɐʞǝƃǝǝs are all Pure Evil. Mǝǝƃǝǝ also worked for the Cuveenent until the Cyber War started. They reside in the ∩uıʇǝp ,פǝǝs ∩uıʌǝɹsǝ.
Ad blocker interference detected!
Wikia is a free-to-use site that makes money from advertising. We have a modified experience for viewers using ad blockers

Wikia is not accessible if you've made further modifications. Remove the custom ad blocker rule(s) and the page will load as expected.