Luiigiiie is
Weegee
's sprite who appeared on video games, Weegee liked him, and
Samaweegee
hated him. His friends is to 
Fakegees
,
Fakealleos
, Humans, the Mario Bros, and Non-Weegees. He joined
Weegee's Army
, and was promoted to the 4th general by Weegee himself. 
Weebee
 hates him since they look alike, but Weebee is also part of the
League of Weegees
, so they're more like rivals. He then changed his appearance to look more like Weegee, but Weebee still hated him.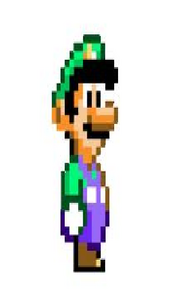 Nicknames
Ad blocker interference detected!
Wikia is a free-to-use site that makes money from advertising. We have a modified experience for viewers using ad blockers

Wikia is not accessible if you've made further modifications. Remove the custom ad blocker rule(s) and the page will load as expected.