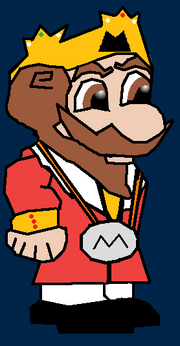 King Malleo is Malleo's ancestor from Medieval times and son of Muhwe. He the king of the land of Malleon. He was married to Queen Paesh. One day, he was overthrown by King Walleo and banished to the dungeon and died there. He was also Fortran's ancestor, who was his 8th great uncle. Amazingly Queen Paesh couldn't be with her best friend becuase back then the Walleo empire and Malleo empire were enimies but after the Mallgee peace paper the stopped fighting. Later in the future after King Malleo died and Kingamiicho took over. 
Ad blocker interference detected!
Wikia is a free-to-use site that makes money from advertising. We have a modified experience for viewers using ad blockers

Wikia is not accessible if you've made further modifications. Remove the custom ad blocker rule(s) and the page will load as expected.