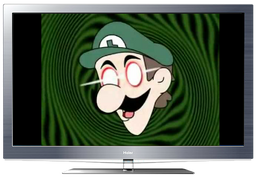 Geevision
(or GV) is the TV or television in the
United 'Gees Galaxy
. The company that makes Geevisions went out of business. The Geevision has over 9000 channels. Here are some famous ones. Channels with an x at the end are run by 
The Potato Team Organization.
Weegee On Demand (300)x
GeeV (1)
GeeV II (2)
GeeV III (3)
GeeV IV (4)
GeeV News (5)
GeeV HD (101)
GeeV II HD (102)
GeeV III HD (103)
GeeV IV HD (104)
GeeV 3D (27)
GeeV II 3D (37)
GeeV III 3D (47)
GeeV IV 3D (57)
GeeV 3DX (1003)
GeeV II 3DX (2003)
GeeV III 3DX (3003)
GeeV IV 3DX (4003)
GeeV BBC (3493)
GeeV BBC HD (4493)
GeeV Kidz (99)
GeeV Kidz HD (100)
GeeVeebies (8493)
GeeVeebies HD (8500)
GeeVeebies 3D (8507)
GeeVeebies 3DX (8514)
GeeV Movies (7272)
GeeV Movies HD (7373)
Geev Movies 3D (7474)
GeeV Movies 3DX (7575)
AlphaTV (12345)
MamaLuigi22TV (6)
Neeckulodeawn (187)
Kawrtewn Nehtwurk/Adoolt Sweem (186)
Disgee Channel (189)
Disgee XD (187)
Jehtex (188)
Toon Disgee (190)
NeeckTewns Nehtwurk (191)
Bewmurang (192)
WTV (193)
Kawmedeeh Cehntrul (194)
Spaik (195)
FAWX (196)
Huhb (197)
Weegee Network (1003)
Malleo Network (1004)
GeeV SX (69)
Pick Jr (9001)
Disgee Jr (613)
Playhouse Disgee (614)
Weegee Air Tales (8000)
HGeeTV (476)x
Foohd Nehttwurck (666)x
YTPCentral (233)x
Gay Luigi Network (28)x
Fawks Nooz (596)x
GunFun.org (7)x
ConkTV Entertainment (9102)
GiIva TV (7777)
GeeV is the main channel, with GeeV HD, GeeV 3D, and GeeV 3DX being the same channel in HD, 3D, and HD+3D respectively.
GeeV Channel Lineup
Mondays
12:00 A.M: The Secret Raffle
12:15 A.M: The Daily Life of Robogee
1:00 A.M: The Shupda Malleo Bros. Super Show!
1:30 A.M: Most Epic Fails of the Universe
2:30 A.M: American Weegee
2:30 A.M: Weegee Guy
3:00 A.M: Junk Toons
4:30 A.M: Weewee and Geegee
6:00 A.M: Talk with Toon Fleegee
8:50 A.M: Weegee's Requests
10:00 A.M: What Malleo Wants
12:00 P.M: Fortran and Freinds
3:30 P.M: After Work
8:35 P.M: Veegee's Day of School
9:50 P.M: Weegee's Life
10:00 P.M: The Birth of Samalleo
Tuesdays
12:00 A.M: Weegee Who
3:00 A.M: Torchweegee
4:00 A.M: The Sarah Weegee Adventures
6:00 A.M: W9
8:00 A.M Gay Day *YAY*
12:00 P.M: Talk With Toon Fleegee
2:50 P.M: After Work
7:50 P.M: True Story Tuesday
8:00 P.M: The Haunted Hotel of Weegee
11:00 P.M: After Hours (Adult Programming Only)
Ad blocker interference detected!
Wikia is a free-to-use site that makes money from advertising. We have a modified experience for viewers using ad blockers

Wikia is not accessible if you've made further modifications. Remove the custom ad blocker rule(s) and the page will load as expected.