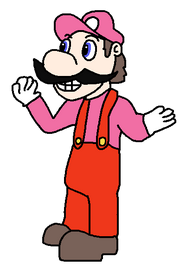 Gay Weegee is a Fakegee that is thought to be gay. He can be considered a Weegee form. One day, Malleo and Weegee were invited to a picnic. Gay Weegee was created when Malleo asked Weegee this: "It was real nice of the princess (Paesh) to invite us to a picnic, eh Weegee?" The "c" in picnic got mixed into the "eh" making it sound like "gay". Before Weegee could respond, Gay Weegee, a small part of Weegee, came out of him. Gay Weegee became his own being and fled the scene. Weegee had lost all gayness.
Gay Weegee is almost identical to Preegee, though Preegee was an actual Fakegee. His brothers, via cloning, are Hotel Weegee and Hotel Malleo.
Trivia
Some Weegees think that he's actually bisexual, saying he shows an interest in male Weegees, but also has a thing for Paesh. Gay Weegee has said nothing about this yet.