This page is a work in progress. Please take note of the last time this was edited, and if any non-page edit updates have been said before editing this.
FD (Full name = FDlleo person, also know as Grand Het) is a
Fakealleo
is the lost brother of
AD
which got lost in the forest during war. Then they reunited 7 years later. He is a son of Xansee and Zangolio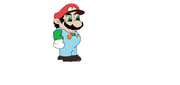 Appearance
FD is a plumber with green jumper, lightblue overalls, brown shoes, white gloves and a red cap. He has a mustache and green eyes.
Friends
Malleo (neutral friend)
Weegee (neutral friend)
ADgee75 (brother)
Faluwexs_bers
Powers
Gaster blasters
Fakealleo attack
Fakealleo jump
Attack of AD Family
Pizza wheel
Price ball
Ad blocker interference detected!
Wikia is a free-to-use site that makes money from advertising. We have a modified experience for viewers using ad blockers

Wikia is not accessible if you've made further modifications. Remove the custom ad blocker rule(s) and the page will load as expected.