This article has few or no links leading to other articles.
Please help by adding more links to this page.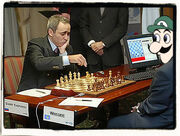 Chesseegee was originally a regular Weegee Clone, but one day, his school was having a chess tournament. Chesseegee entered and actually got 1st place. He became addicted to chess from then. He is currently the best chess player in the world, although he is not that well known. He is one of the few Fakegees that plays chess, along with Russeegee.
Ad blocker interference detected!
Wikia is a free-to-use site that makes money from advertising. We have a modified experience for viewers using ad blockers

Wikia is not accessible if you've made further modifications. Remove the custom ad blocker rule(s) and the page will load as expected.