After
Carnavana
got killed by Baladoe,
Un Ded
 revived him in to this form. The project they used for Gelexeegee II making them ultra powerful beings worked well, so they used it for Carnavana. Now Carnavana isn't only just the best scientist, he's the STRONGEST scientist! He's not near as strong or godly as Gelexeegee II, but he's pretty strong. Some say he goes under the command of
Hypneegee
now.... He somehow got killed AGAIN and he is now Carnavana III.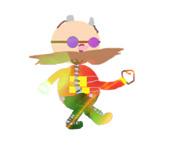 Ad blocker interference detected!
Wikia is a free-to-use site that makes money from advertising. We have a modified experience for viewers using ad blockers

Wikia is not accessible if you've made further modifications. Remove the custom ad blocker rule(s) and the page will load as expected.