AlphaTV is a popular TV channel on Geevision. On the channel well, mostly cartoons and films of Alphaweegee air on this channel, but sometimes there are films and cartoons of his friends. Recently, on the "Adventures of Alphaweegee & his friends" there is the episode called "Hypneegees shadow" (Part 1 and 2)
Shows
Adventures of Alphaweegee & his friends. (Most popular show)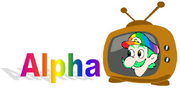 Alphaweegee talk.
LriGees show.
YoBalleos jokes.
Alpha warriors.
Alphaweegee, Betalleo, and Betaweegee (Sometimes Deltaweegee appears too). The Amazing Adventures of the brother trio.
Moongees AstroNews.
Alphaweegee-battle of all Fakegees. (You can request to battle Alphaweegee)
X59GEEs amazing discovories of the United 'Gees Galaxy.
Create magic in the kitchen (With Naturegee)
Alphaweegee-the movie. (Now in 3D) (This is shown not often)
Omegaweegee show (cancelled killed by Alphaweegee)
ToonBand: by Toon Awheeo (cancelled, you can see why on Toon Awheeo's page)
Ask LriGee.
Ask Alphaweegee.
Sling King's Gee Gem Auctions.
The Alphabreegee Show (made by Alphabreegee)
There is more, but we can't tell you all of them.